Why the 2018 Alfa Romeo Giulia Earned the Motor Trend Car of the Year Award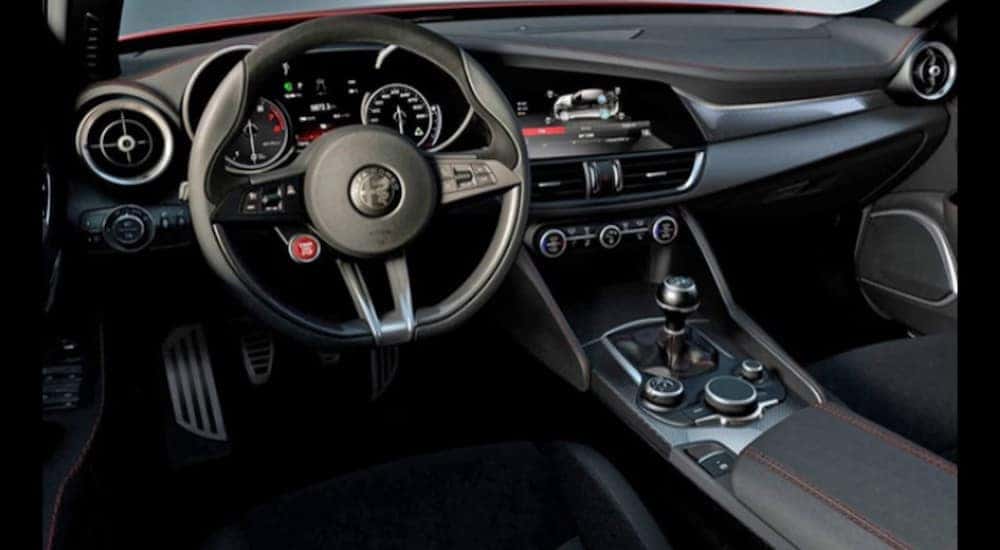 We already knew that Alfa Romeo dealers hit a home run with their brand-new 2018 Guilia, but that sentiment was recently confirmed by one of the industry's top publications. The 2018 Alfa Romeo Giulia was awarded Motor Trend's Car of the Year award, a prestigious honor that's reserved for the industry's best offerings.
"The Motor Trend Car of the Year award acknowledges all of the hard work, dedication, and passion that went into developing the entire Giulia lineup – including our record-breaking Giulia Quadrifoglio – which revolutionizes the segment and pays tribute to our storied heritage and racing pedigree," said Reid Bigland, the Head of Alfa Romeo. "We are honored to be the first Italian brand to ever receive this prestigious award and we're excited for the future of Alfa Romeo here in North America and abroad."'
Of course, if you're familiar with everything that the nameplate has to offer, this news shouldn't be overly surprising. After all, the nameplate seemingly delivers all of the amenities and capabilities a customer could possibly want from a luxury car… and a whole lot more. Continue reading below to understand why the nameplate was more than deserving of Motor Trend's Car of the Year award…
Performance
The 2018 Alfa Romeo Giulia is one of the most athletic vehicles in the entire class, and much of that sentiment can be attributed to the incredible 2.0-liter all-aluminum turbocharged four-cylinder engine. Drivers can ultimately anticipate 280 horsepower and 306 pound-feet of torque, meaning you'll be more than capable of overcoming any of your fellow drivers on the highway. These incredible power specs also have a positive influence on performance, as drivers can expect to reach a top speed of 149 miles per hour and 0-to-60 miles per hour time that's lingering around 5.1 seconds.
Of course, another reason for these incredible power specs has to do with the nameplate's clever design. Engineers included lightweight materials like carbon fiber and aluminum, allowing the car to truly realize its horsepower and torque. The brand also included a much-appreciated carbon fiber driveshaft, which doesn't only optimize power, but also contributes to a quieter, more enjoyable driving experience.
"Motor Trend's judges agreed that the Alfa Romeo Giulia is the new ultimate driving machine," said Ed Loh, Motor Trend's Editor-in-Chief. "Alfa Romeo developed a car that is perhaps the finest handling sedan on the market."
Technology
While drivers will surely appreciate all of the power that's emanating from the engine, they'll also enjoy all of the technological amenities that are included in the Guilia. Specifically, they'll appreciate the accompanying touchscreen unit, which provides quick and easy access to an assortment of applications. Plus, thanks to the Apple CarPlay and Android Auto compatibility, drivers can seamlessly connect their smartphone. That way, they can perform many of their phone's basic functions, including calls and music playlists.
Safety
Perhaps best of all, the vehicle is also equipped with a number of notable safety technologies, meaning drivers will be more than secure when they're behind the wheel of the 2018 Alfa Romeo Giulia. It starts with the Integrated Brake System, which can optimize stoppage power and control when it's most needed. The accompanying Forward Collision Warning-Plus will alert the driver via audible and visual cues when a collision is imminent, and the vehicle can even apply the brakes if needed.
Even then Rear Back-Up Camera and the Rear Park Assist System are notable inclusions. Thanks to the camera, drivers can constantly monitor the surroundings of their vehicle, allowing them to anticipate any object or person. The Rear Park Assist System will play a similar role, guiding drivers into parking spots while helping to avoid minor fender benders.
Style
Of course, the 2018 Alfa Romeo Giulia is a luxury car, so you'll surely expect a number of opulent amenities. Well, this sentiment applies to both the nameplate's interior and exterior, as owners, passengers, and fellow drivers will be gawking at the striking car.
The exterior includes a number of notable cosmetic inclusions, like the 17-inch 10-spoke aluminum wheels and the dual chrome exhaust tips. The aluminum window surrounds will certainly add a sporty persona to your ride, while the Bi-Xenon Headlamps (with LED Daytime Running Lamps and Taillamps) will also leave your fellow drivers gawking. Meanwhile, the interior includes amenities like leather seats and a seven-inch "thin film" transistor cluster display, a pair of inclusions that will certainly be appreciated by owners.
There's no denying that the 2018 Alfa Romeo Giulia is one of the most impressive offerings in the class, and the nameplate's versatility is a big reason why it won the award. These various attributes are also a major reason for why prospective car buyers should be targeting this specific ride.
While it's relatively easy to determine that the 2018 Alfa Romeo Giulia is an ideal target, it should be even easier to choose where you're going to purchase that luxury car. Those living in the Albany, New York area shouldn't look anywhere else than Alfa Romeo of Albany. The dealership provides customers with a number of different benefits that will drastically improve the entire buying process.
For starters, their convenient hours means you'll never have to shift around your schedule in order to visit the business, while the easy-to-find location means you won't waste hours finding the literal dealership. Their vast inventory means you'll have a host of options at your disposal, while their competitive prices mean you'll be unlikely to find a better deal elsewhere. Plus, thanks to their finance department and their service department, you can continue relying on the dealership even after you've completed your purchase.
So what are you waiting for? Since you've determined that the 2018 Alfa Romeo Giulia is the perfect choice for you, it's time to start shopping! So head out to Alfa Romeo of Albany and get started on the car-buying process right away!