Why The Itsy, Bitsy 2016 4C Spider Really Isn't All That Itsy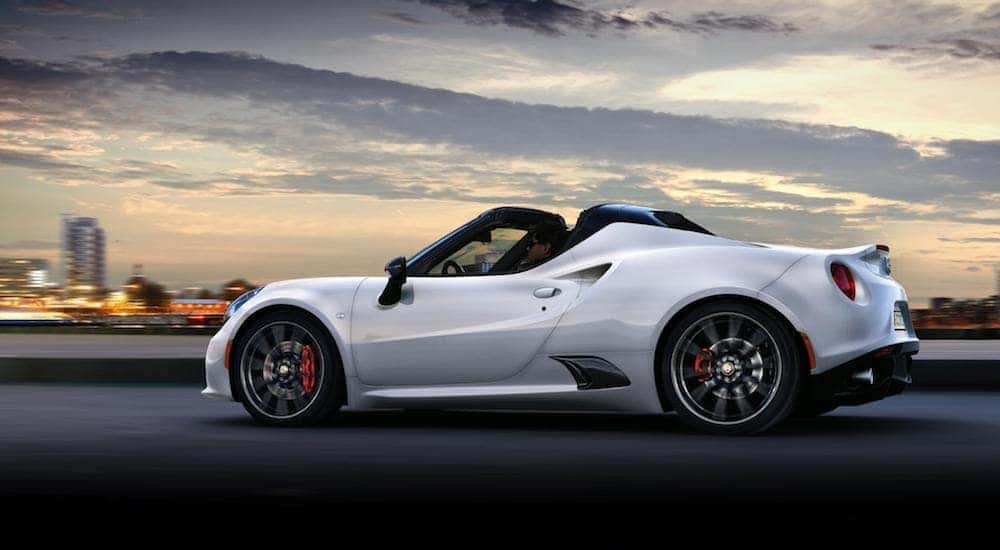 The itsy, bitsy spider really isn't all that itsy after all. The 2016 Alfa Romeo 4C Spider is one of the most impressive vehicles in the entire industry, with the brand finding the proper mix between Italian luxury and unmatched sportiness. Consumers are probably well aware of the vehicle's style, but they might be underestimating other aspects of the car. For instance, were you aware that the vehicle was one of the top racers in the segment, and did you know that the car is stocked with a number of entertainment and safety amenities?
Below, we've reviewed several reasons why the 2016 4C Spider is so incredible. Then, when you start shopping around at Alfa Romeo dealers, you'll know exactly what car you want to pursue…
Incredible Engine Capabilities
The Spider may be a smaller vehicle, but that doesn't mean it isn't capable of packing a punch. In fact, the accompanying engine is as sporty as it can get, and you'll be hard pressed to find a more capable engine elsewhere.
The turbocharged engine delivers all of the power that you could possibly expect, pumping out an astonishing 237 horsepower and 258 pounds-feet of torque. This predictably influences the vehicle's performance specs, as drivers can also anticipate a top speed of 160 miles per hour and a zero-to-60 time of 4.1 seconds. The brand's decision to include a light-weight Carbon Fiber in the composition of their vehicle will also help improve these numbers. 
Despite all of this power and speed, drivers won't have any issues controlling their Spider. The Alfa Romeo TCT Twin Clutch transmission will allow the gears to switch seamlessly, and drivers won't think twice about slamming the pedal to the metal. Plus, thanks to the Brembo brakes and accompanying front and rear ventilated drilled discs, drivers can also expect the ultimate stoppage power from their new sports car.
Furthermore, Alfa Romeo's engineers have assured that their Spider is ready to overcome any type of conditions or terrain. The Alfa DNA system allows drivers to choose from four distinct driving modes, and the vehicle will adapt to accommodate the impending conditions. With the ability to choose between "All-Weather, Natural, Dynamic, or Race" modes, drivers will find a driving configuration that suits their current driving situation.
Incredible Design
Of course, the 2016 4C Spider will also be lauded for its style, but that's no surprise. Italian sports cars are generally considered some of the nicest vehicles in the industry, and Alfa Romeo's vehicle is certainly no exception to this sentiment. The exterior includes a number of sleek curves and lines, emphasizing the car's athleticism. On the inside, the various upholsteries have been handcrafted, providing unmatched opulence. Of course, the vehicle can also be converted in a convertible, which will surely transform the Spider into one of the most stylish vehicles on the road.
Incredible Options
It's unlikely that you'll be driving past many 2016 4C Spiders. However, we still don't blame you if you want to completely personalize your sports car and make it one of a kind. Fortunately, thanks to the brand's array of paint options, drivers will be able to personalize their purchase.
It starts with the array of exterior colors, as drivers have the opportunity to choose from a variety of luxurious offerings. The options include:
Black

Basalt Gray Metallic

White

Madreperla White Tri-Coat

Giallo Prototipo

Rosso Alfa

Rosso Competizione Tri-Coat
Of course, that only skims the surface of the offerings that drivers will have. Customers will also have the chance to choose between a number of additional amenities that will help personalize the Spider. These offerings include:
Wheels

17-inch front/18-inch rear light alloy wheels

17-inch front/18-inch rear dark alloy wheels

18-inch front/19-inch rear silver forged five-hole wheels

18-inch front/19-inch rear dark gray forged five-hole wheels

18-inch front/19-inch rear light alloy fan spoke wheels

18-inch front/19-inch rear dark alloy fan spoke wheels

Brake Calipers

Silver brake calipers

Yellow brake calipers

Red brake calipers

Black brake calipers

Exhaust

Dual exhaust

Racing dual exhaust

Center-mounted dual exhaust

Halo

Black halo panel

Carbon fiber halo panel

Roof
Customers can even modify their interior with a number of upholstery materials and colors. The various offerings include:
Racing Microfiber/Leather Trimmed Buckets Seats with Yellow Accent Stitching

Black Leather Trimmed Bucket Seats with Yellow Accent Stitching

Black Microfiber/Leather Trimmed Bucket Seats with Red Accent Stitching

Black Leather Trimmed Bucket Seats with Red Accent Stitching

Red Leather Trimmed Bucket Seats

Tobacco Leather Trimmed Bucket Seats
Incredible Safety Technologies
Drivers are going to be spending a pretty penny on their new car, and they'll presumably want to maintain the like-new quality of the model. Therefore, they'll need to rely on the car's safety functions to keep them out of harm's way. Fortunately, that's a distinct possibility in the 2016 4C Spider, as the car is equipped with a number of notable safety functions.
The Electronic Stability Control allows drivers to stay on their intended path, preventing any skidding or loss of control. The All-Speed Traction Control allows for increased stoppage and deceleration ability, while the Hill Start Assist assures that you'll be able to overcome any steep incline. Even the halogen projector headlamps are worth nothing, as they'll provide drivers with optimal visibility, especially on those dark nights. In the event of an accident, drivers can rely on the air bag system, which includes five units, to keep them safe and secure.
Incredible Entertainment Technology
While owners will surely be appreciating the capabilities of their new purchase, they'll presumably require some type of technological amenities in their new ride. After all, while power is certainly appreciated, drivers will need additional feature to make any commute or journey a lot more tolerable. 
The seven-inch full-color TFT Display provides quick and easy access to an assortment of useful applications, including radio. Plus, thanks to the Bluetooth capabilities, drivers can also stream any music via their smartphone. Meanwhile, the 12-volt power outlet and various USB ports will let occupants keep their preferred gadget charged at all times.