Tonale, a Hybrid Crossover SUV, Introduced by Alfa Romeo
Hybrid Crossover SUV Added to the Alfa Romeo Vehicle Lineup
The Alfa Romeo marque is no stranger when it comes to innovation and head-turning performance.
That's why the luxury Italian automaker is setting its sights on the future with something we haven't previously seen in the lineup: a crossover SUV hybrid.
Introducing the Alfa Romeo Tonale
What is expected to be the first of several from a luxurious hybrid-electric vehicle lineup, Alfa Romeo is adding an all-new compact plug-in hybrid SUV to its roster, it announced in March 2019 at the Geneva Motor Show.
The Alfa Romeo Tonale crossover SUV is a natural progression for the company and the way technology is advancing, incorporating cutting-edge hybrid-electric technology and the finest Italian luxuries and style.
Mechanically, the Tonale is expected to boast a rear-mounted electric motor that is anticipated to provide an electric driving option or deliver maximum performance through a new "Dual Power Mode."
Dual Power Mode, formerly Dynamic Mode with improvements and innovations is anticipated to integrate seamlessly with the hybrid powertrain, according to Alfa Romeo.
The electrification of Alfa Romeo comes at the service of sportiness and emphasizes the famous 'Mechanics of Emotion' mission of the brand.
The rear electric engine opens the way to new technological solutions that offer driving dynamics, maximizes the drive, and the pleasure of sporty driving.
The Tonale stays true to the Alfa Romeo heritage with the scudetto grille and styling that pays tribute to the Alfa Romeo racing heritage.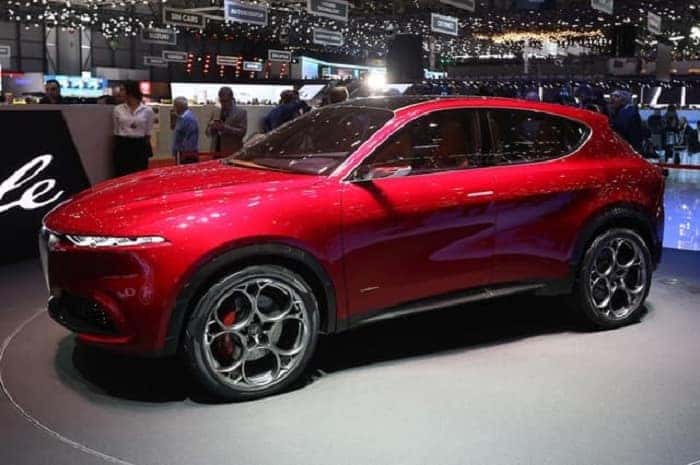 Luxury Beyond Expectations
The inside of the crossover SUV hybrid is expected to exude upscale luxury Italian design and materials that we've become accustomed to with Alfa Romeo.
With space for four, we anticipate seeing a future-forward digital instrument cluster, backlit translucent panels, and a 10.25-inch infotainment screen.
Alfa Romeo has famously named vehicles with references to its strong Italian heritage. So, it comes as no surprise that the Tonale is named for a place in Italy. The Tonale Pass in Northern Italy connects Val Camonica and Val di Sole and is the inspiration for this new compact SUV that will likely be the flagship vehicle for a soon-to-come eye-popping electric vehicle lineup by Alfa Romeo.
It is anticipated that the Tonale will exit the production line at the tail end of 2020.
Until it arrives in our showroom, we anticipate following the updates and announcements that are sure to follow the unveiling.