Three Reasons to Pursue the 2017 Alfa Romeo Giulia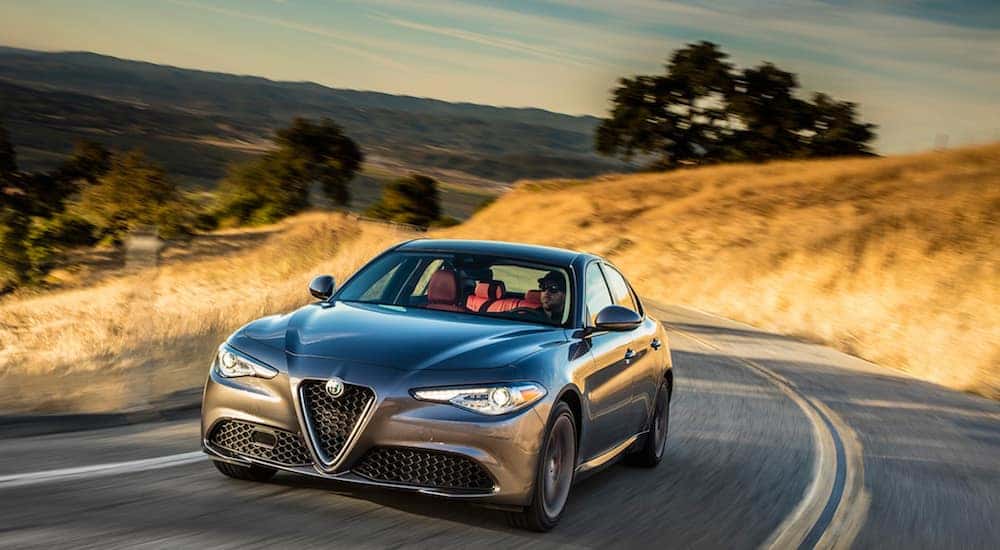 Finding an Italian sports car that's priced below $50,000 is much easier said than done. However, thanks to Alfa Romeo's revival in North America, customers can now opt for the luxurious Alfa Romeo Giulia for an incredibly affordable price.
Of course, the price tag shouldn't be the lone factor that influences your decision to purchase this particular vehicle. Fortunately, the Alfa Romeo Giulia is a "must-pursue" for a variety of reasons, including incredible performance specs, drivability, innovative technology (including safety features), and a number of customization options.
Continue reading to see the top-three reasons why you should pursue this particular car. When you've finished reading, you'll surely be seeking an Alfa Romeo Giulia for sale…
Reason to Pursue #1: Performance
Similar to many luxury vehicles, the Alfa Romeo Giulia is known for its incredible engine performance. The 2.0-liter I4 Intercooled turbo engine manages to crank out a mighty impressive 280 horsepower and 306 pounds-feet of torque. Predictably, these specs have a major impact on performance, resulting in 149 horsepower and a 0-to-60 time of 5.1 seconds.
Meanwhile, thanks to the eight-speed automatic transmission, drivers can also expect an incredible 24 city/33 highway mile per gallon fuel efficiency. Since drivers are presumably going to be dishing out a pretty penny on their new Alfa Romeo Giulia, they can at least take satisfaction in knowing that they'll save some additional money at the gas pump.
Of course, the vehicle's engineers accounted for more than the engine when they were designing this performance car. That's why they added a number of exterior amenities to improve the overall driving experience. For instance, the brand's "Trilobe" shield grille doesn't just improve the exterior aesthetics, it also improves the vehicle's weight distribution. Meanwhile, the new class-exclusive carbon fiber drive shaft reduces the vehicle's overall weight, thus impacting both performance and aerodynamics.
When you combine these features with the rear-wheel drive layout, drivers can expect one of the best driving experiences on the road. This driving technology will be especially important on those hard-to-maneuver roads, as it directly increases grip, especially when accelerating around corners. The system also plays a significant role in improving handling, meaning drivers will never have an issue maintaining control of their new car.
If drivers are seeking even more "improvements" to the vehicle's drivability, the Q4 all-wheel-drive system will support exceptional traction throughout the year (even in those messy, snowy conditions), and the accompanying Chassis Domain Control and the flexible Alfa DNA Drive Mode Selector will allow drivers to modify their Alfa Romeo Giulia to better adapt to those road conditions. Even the Alfa Active Suspension system can adapt to the weather, meaning drivers can consistently expect the utmost performance from their new car.
Reason to Pursue #2: Technology
Of course, Alfa Romeo is at the forefront of innovation, so it shouldn't be particularly shocking that the brand included a number of technological amenities to their 2017 Giulia. These inclusions will have a significant impact on both convenience and entertainment.
For instance, the brand's 6.5-inch or 8.8-inch integrated widescreen Information and Entertainment System will deliver all of the applications a driver could possibly need, thus leading to hours of entertainment during those long road trips. The accompanying rotary controller is located in a driver-centric position, allowing the individual to choose their ideal application without taking their eyes off the road.
This technology also has an incredibly important role in impacting the vehicle's overall safety capabilities. For example, the Integrated Brake System is included to reduce necessary braking distances, but it was specifically designed so drivers will still constantly stay in complete control. This technology partners with the Forward Collision Warning Plus system to maximize this safety. If a vehicle is approaching another vehicle at too great of a speed, then the vehicle will alert the driver via audible and visual warnings. If necessary, the vehicle can even apply the brakes when a collision appears imminent.
Even the Standard Backup Camera (with Rear Park Sensors) is a useful inclusion, as it prevents owners from accidentally compromising their vehicle's rear aesthetics. The Bi-xenon Headlamps play a similarly important role, as they'll provide maximum visibility on those hard-to-see roads.
Reason to Pursue #3: Modifications
Fortunately, if you purchase an Alfa Romeo Giulia, you can be confident that you won't find an identical vehicle on the road. That's because the brand provides customers with a number of customization options, allowing them to truly make their luxury car their own.
For instance, drivers can choose between a number of different color options as they look to differentiate the car from the others. These offerings include:
Alfa Black
Alfa White
Rosso Alfa
Montecarlo Blue Metallic
Silverstone Gray Metallic
Vesuvio Gray Metallic
Vulcano Black Metallic
If this wasn't enough, customers can also choose between several brake caliper offerings, including:
Gloss Red Brake Calipers
Gloss Black Brake Calipers
Gloss Yellow Brake Calipers
If drivers are looking for even more exclusivity, they can opt for one of the two available packages. The Giulia Sport Exterior Appearance Package boosts the athleticism of the car, adding features like 18-inch Sport Aluminum Wheels, a sport front and rear fascia, black gloss windows, and all-season tires. Meanwhile, the Giulia Sport Interior Package transforms the inside of the vehicle, with features like the steering column-mounted aluminum paddle shifters, aluminum sport pedals and footrest, brushed aluminum interior accents, and a sport leather steering wheel bringing the car's overall sportiness to a whole new level.
When it comes down to it, the Alfa Romeo Giulia truly delivers everything a prospective buyer could possibly want from their new vehicle. Now that we've established the Giulia as your target, it's time to start shopping. If you live in the northern New York area, then you should head into Alfa Romeo of Albany for all of your brand-specific needs. The helpful team will work with you to find a reasonable deal that satisifies both sides, and you'll soon be driving around town in your new Alfa Romeo Giulia.