Five Things You Can Expect from the 2017 Alfa Romeo Giulia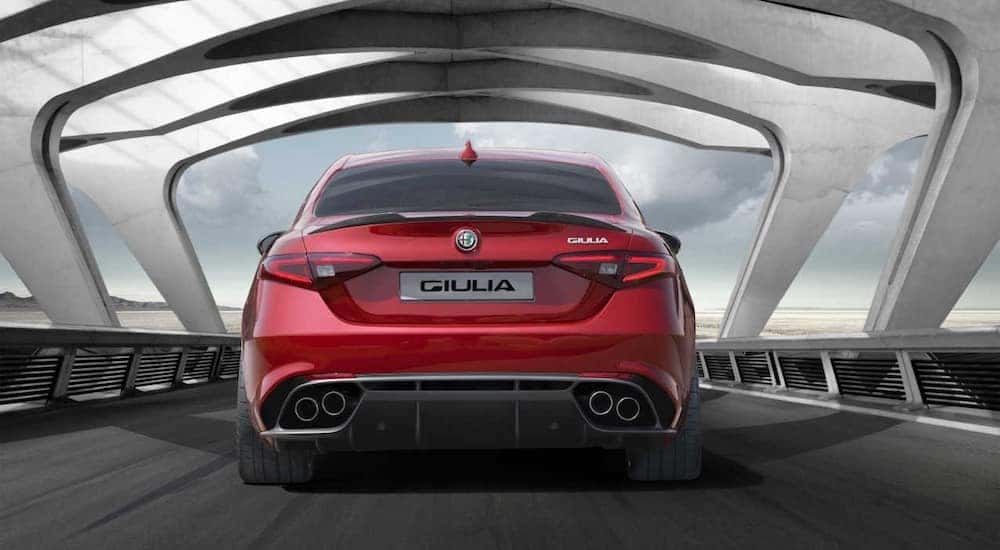 Alfa Romeo has been pulling out all the stops as they look to re-integrate into the United States market. One of their most popular offerings is the luxurious 2017 Alfa Romeo Giulia, but we wouldn't blame you if you don't know a whole lot about the vehicle.
Of course, that doesn't mean that the vehicle should be undervalued in any way, as the sports car delivers some of the most impressive performance specs and features in the entire class.
Before you start shopping around for a 2017 Alfa Romeo Giulia in Albany, New York, see what you can expect from the posh Italian car…
Owners Can Expect: Performance
When discussing the capabilities of the 2017 Alfa Romeo Giulia, it's natural to immediately turn to the vehicle's incredible engine. The brand-new aluminum 2.0-liter I4 Intercooled Turbo Engine delivers all of the power a driver could possibly be seeking. The unit delivers a mighty impressive 280 horsepower and 306 pounds-feet of torque, and these specific specs end up influencing other aspects of the Giulia's performance. For instance, the vehicle is capable of reaching a top speed of 149 miles per hour, and drivers can also anticipate a zero-to-60 time of 5.1 seconds.
Engineers included several additional features that will also enhance the vehicle's capabilities. The inclusion of a carbon fiber drive shaft reduces the vehicle's weight (while also optimizing weight distribution), but this significant drop does little to influence power in a negative way. Meanwhile, the rear-wheel drive technology makes it incredibly easy to control your new car. This system boosts traction, especially when the Giulia is attempting to accelerate or travel around a curve, thus delivering the utmost safety.
The Q4 AWD system plays a similar role, as the unit provides optimal traction and performance on those sleek or messy roads. This specific unit is connected to the brand's Chassis Domain Control and the Alfa DNA Drive Mode. This technology will monitor the weather and road conditions, allowing the vehicle to properly adapt.
Owners Can Expect: Expert Architecture
Engineers cleverly designed their Alfa Romeo Giulia to deliver optimal safety and performance. The front and rear axles received "optimized distribution," thanks to the ideal weight distribution, while the brand's Suspension system helps the car maintain its grip with the road.
Engineers even developed a clever car-building infrastructure that helps maintain the beauty of the vehicle during production. By refusing to add water and chemicals during the paint process, the exterior will be preserved for much of the vehicle's life (especially when compared to rival cars). Meanwhile, the assembly line assures that every individual aspect of the vehicle meets the brand's requirements. In other words, you can trust that your 2017 Alfa Romeo Giulia will deliver all of the capabilities, comfort, and style that you'd expect from an Italian sports car.
Owners Can Expect: Convenient and Safe Technology
Drivers will particularly appreciate the high definition 6.5- or 8.8-inch Information and Entertainment System. The widescreen unit allows occupants to choose from a variety of different applications that can assist or entertain during a commute. For instance, occupants can jam out to their preferred radio stations, or they can lean on a navigation system to guide them to their destination. The unit will truly deliver whatever help the driver is seeking.
While the vehicle's Information and Entertainment System is intuitive and easy to use, drivers can still rely on the exclusive rotary controller to help pick out their desired application. Instead of having to take their eyes off the road and finagle with the built-in touchscreen, drivers can rely on the easy-to-use knob to choose their preferred radio station or navigation service. This doesn't only boost convenience, but it can also influence safety.
Owners Can Expect: Utmost Safety
You've spent a lot of money on this new 2017 Alfa Romeo Giulia, so we're sure that you want the purchase to maintain its opulence for as long as possible. Thanks to the brand offering an array of preventative safety features, owners can rest easy knowing that their vehicle's well-being is in good hands.
Inclusions like the Integrated Brake System will deliver drivers optimal stoppage power. Therefore, they'll never have to worry about being able to decelerate on wet or icy roads, and they can also rely on the system to stop immediately. Meanwhile, the Forward Collision Warning Plus will be especially useful when you're approaching another vehicle at too great of a speed. The unit will alert the driver with audible and visual cues, and the vehicle can even apply the brakes if a crash is imminent.
Finally, the Standard Backup Camera with Rear Park Sensors will allow drivers to monitor everything that's happening behind their 2017 Alfa Romeo Giulia. This allows these owners to anticipate anything that might suddenly cross their path, thus preventing those irritating fender benders.
Owners Can Expect: Sporty Packages
There are several ways that drivers can further personalize their 2017 Alfa Romeo Giulia. By opting for either of the available sports packages, these owners can increase the athleticism of their new car.
The Giulia Sport Exterior Appearance Package includes a number of muscular features, like the 18-inch Sport Aluminum Wheels and the accompany All-Season Performance Tires. Engineers also included front and rear sport fascias, which are stylish and effective, as well as intimidating gloss black window surrounds.
Meanwhile, the alternative Giulia Sport Interior Package includes a number of aluminum features, like Aluminum Sport Pedals and Footrests. Other stylish offerings include steering column-mounted aluminum paddle shifters and brushed aluminum interior accents.
As you've read, there really isn't much that you shouldn't expect from the 2017 Alfa Romeo Giulia. The brand delivers their customers everything they could possibly want from a new car, including excellent performance, sporty packages, a host of safety features, and a number of additional amenities. Now that you have a full understanding of what the Italian car can offer, you can begin your search for a 2017 Alfa Romeo Giulia in Albany, New York.