Experience Luxury with an Alfa Romeo
A Luxury Italian Car Brand & its Art of Seduction
When you think of premier luxury Italian car brands, it's impossible not to think of the Alfa Romeo lineup.
Drivers who desire more in their driving experience tend to lean towards the historic racing heritage of Alfa Romeo.
And for good reason.
The Italian luxury brand creates an experience that leaves a lasting impression with drivers and passengers alike.
The Alfa Romeo experience keeps consumers coming back for more.
Seductive Styling
Alfa Romeo offers attention to detail that surpasses all others.
The high-powered vehicle brand founded by Alexandre Darracq begins its unique experience with eye-catching, head-turning exteriors that are as elegant as the vehicle names themselves.
From the distinct scudetto grille, which has a history of its own, to the high-performance bi-xenon headlamps and signature LED daytime running lamps, an Alfa Romeo will turn heads every time it turns a corner.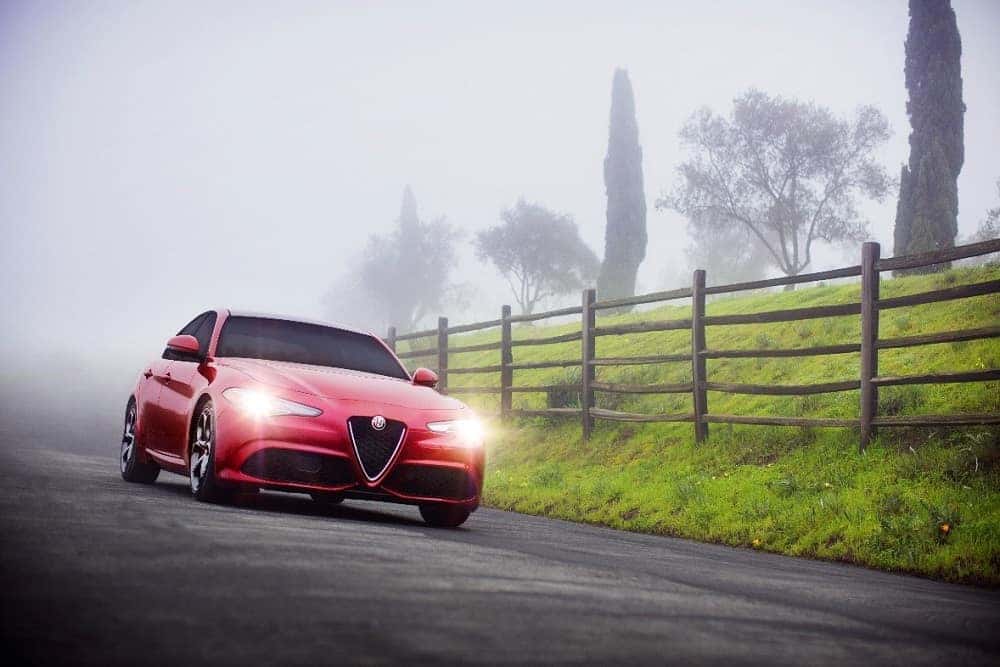 The exquisite styling doesn't stop at the exterior.
Alfa Romeo Features
Featuring premium leather upholstery, dual-zone automatic climate control, rear parking sensors, and a rearview camera are just a few of the perks found inside the luxury Italian brand lineup.
Harmon Kardon premium audio system, satellite radio, blind spot monitoring, navigation and more luxury features make the Alfa Romeo vehicle lineup a dream when it comes to road trips, long commutes, and driving around town.
A widescreen infotainment center is at the center of it all, keeping drivers connected whether it's with Apple CarPlay® or Android Auto™. The system allows drivers, or passengers, to browse nearby restaurants, browse music, and much more.
The integrated widescreen feature displays everything that's important. From vehicle performance, tire pressures, to the commute ahead, the infotainment center holds a wealth of knowledge and information.
Cars Primed for Performance
Nimble handling, adaptive suspension, and quick steering make any vehicle from the Alfa Romeo lineup a dream to drive and call your own.
DNA System
One feature found in each Alfa Romeo vehicle is its DNA System, which delivers optimal performance and maneuvering, no matter the weather or road conditions.
Alfa Romeo DNA System driving modes include:
Dynamic Mode: Drivers who select Dynamic will experience a more responsive and direct control behind the wheel. Traction control operates in a subtle fashion while the engine and brakes operate in a reactive manner.
Natural Mode: This mode is ideal for neutral surfaces and terrains, heading downtown for an evening, or a casual drive. This helps to minimize fuel consumption throughout the duration of the journey.
All-Weather Mode: During periods of inclement weather, or when road conditions are less than ideal, All-Weather is the ideal setting. When selected, the Alfa Romeo DNA System communicates with necessary components throughout the vehicle to ensure proactive responses and handling.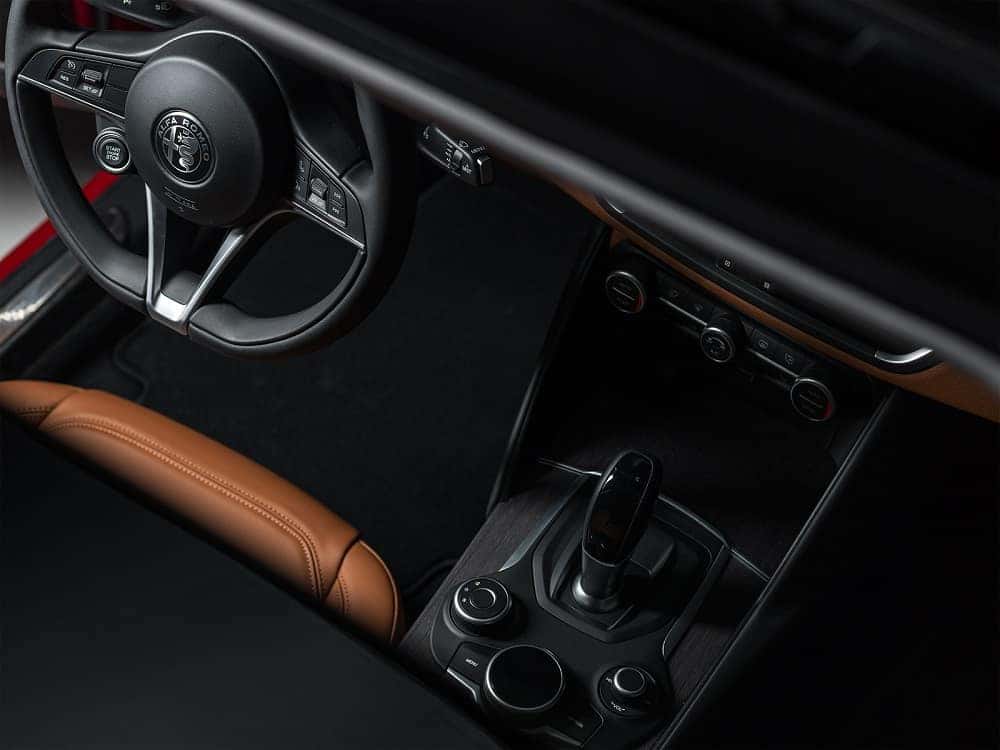 Then there's Race Mode, an additional mode found in the Giulia Quadrifoglio, Stelvio Quadrifoglio, the 4C Coupe and 4C Spider. Putting the driver in total control, Race Mode deactivates the ESC stability control and Anti-Slip Regulation Control (ASR) while also minimizing interventions from the electronic system, this setting is ideal for racing conditions.
Vehicle Safety for Alfa Romeo Cars & SUVs
A unique approach is taken to ensure safety for the driver and the passengers.
The approach is designed to navigate harsh elements with ease and elevate the vehicle's performance.
Anti-Slip Regulation Control
ASR limits the spin of the driving axel during a driving torque request in the event the adherence limit is reached, providing further optimizations for traction support.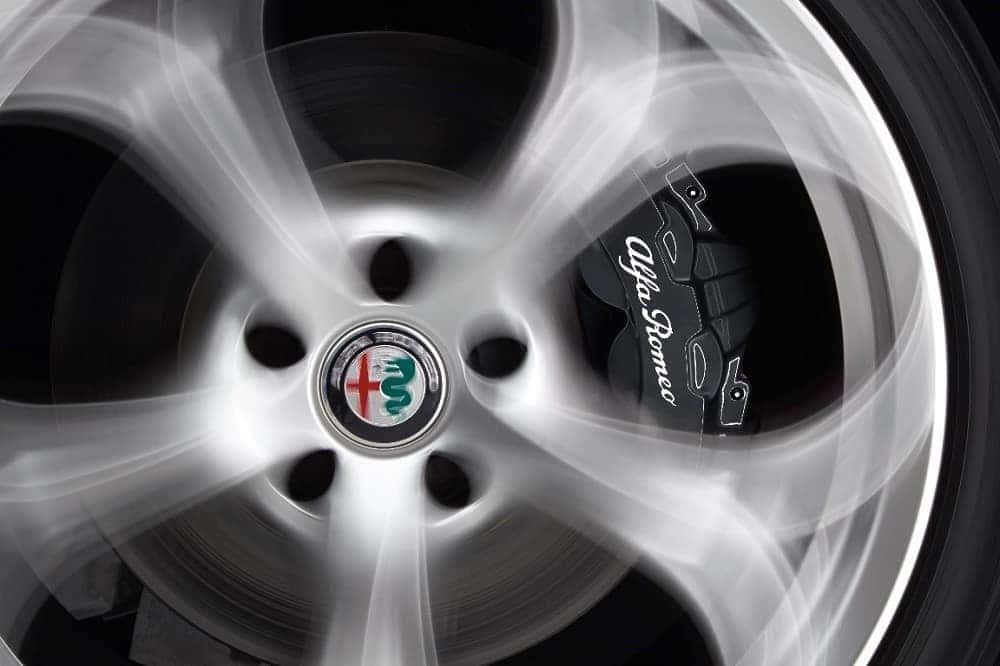 Blind Spot Monitoring
Through an illuminated sideview mirror icon, the dual radar sensors aid the driver while changing lanes and notifies the driver if a vehicle is in the blind spot.
Experience the Luxury Italian Car Brand Yourself
Beyond the superior quality and innovative technology found in each Alfa Romeo, the lineup is a testament to individuality, heritage, and providing the-best-of-the-best for consumers.
The marque is easy to fall in love with, and impossible to forget.
Whether you're searching for an Alfa Romeo Giulia, Stelvio, or 4C Spider, the marque is sure to leave a lasting impression.
For an experience of your own, visit our showroom on Central Avenue in Albany, New York, today. While visiting the Alfa Romeo of Albany showroom, you can expect the highest quality service and the best in market-based pricing.