Bonding Over Alfa Romeo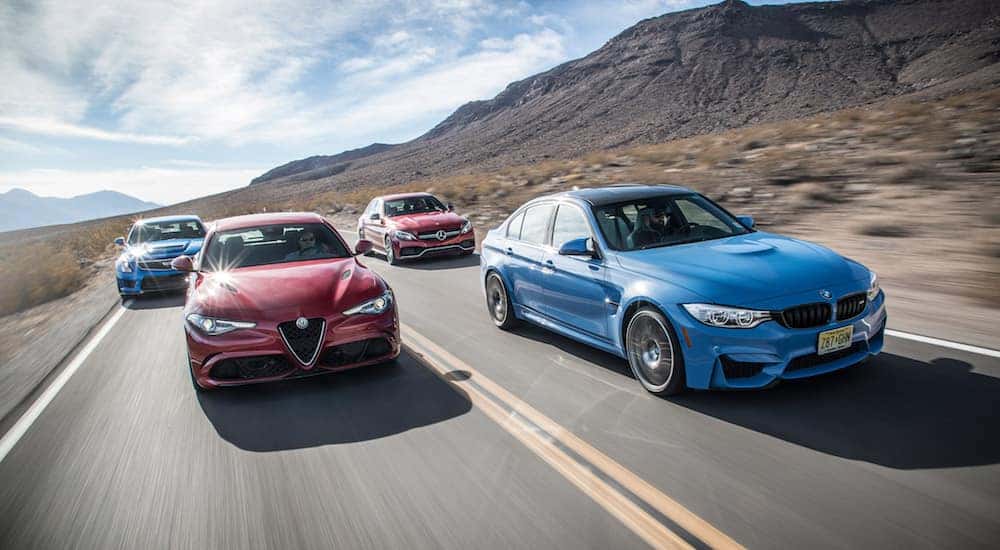 My 11-year old daughter has the unenviable position of being my favorite road-trip partner. While most of it (like weekend adventures, kick-ass tunes and all the road snacks you can handle) is as good as it gets, she has yet to take a liking to my excitement whenever I check out other vehicles on the highway.
The fact of the matter is, she's not much of a 'car girl.' Actually, that's not entirely true. It's just that to-date, she's been raised on a steady diet of Detroit steel as a result of my lifelong adoration of classic Dodge muscle cars (an adoration which she shares). So much so that, after I flipped my first Dodge Charger, she gave me no choice but to buy another. "Pop, you're only allowed to buy cars that begin with CH," she said to me at the age of six. "CHarger, Challenger." Needless to say, my brother-in-law (who is currently refurbishing a '70 CHevelle) was pleased that his project met his favorite niece's stringent requirements, and yet still made a joke when asking if a "CH-amaro" would be acceptable.
That said, the only thing that grabs her attention on the highway is if I spot a really nice Charger, Challenger, Duster or Demon. She'll put down her iPod, check it out, ask questions and I'll answer (or guess) to the best of my ability. Other than that, she's simply not interested.
So, you can imagine my surprise about two weeks back, as we left Massachusetts on 495N en route to Wells Beach, Maine. There we were in the (quote/unquote) 'fast lane' of steadily moving, but nearly bumper-to-bumper traffic. Easily moving along at about 70 mph, there weren't many places to go. Moving to the right might mean more space between vehicles, but ultimately, we'd have little choice but to slow down. And then, I saw it.
In my rearview mirror, I caught a glimpse of a car darting between lanes, utilizing the space that I was so hesitant to take over out of fear of having to reduce my speed. Gaining on us with each second, it had not need for the fast-lane. Showing peak maneuverability, smooth handling and no signs of jerking acceleration, the distinctive front fascia gave it away.
"Emma, look!" I said excitedly, knowing better that she probably wouldn't be interested.
Removing her ear buds, she looked around unsure of what I was seeing.
"Turn to your right," I told her. "It's coming up in just a second."
And while my expectation is that she'd look, nod, ask what it was and resume whatever game she was playing, something magical happened. Her eyes opened wide, and followed the car as it zipped past us, continuing to weave effortlessly between lanes.
"What is it?" she asked, with a sense of awe nearly-identical to my own, the first time I had seen one in action.
"That's an Alfa Romeo Giulia Quadrifoglio."
"Can we get one?" she asked, with eyes full of hope.
I smiled. And like all good parents, I shattered her youthful optimism with patronizing laughter.
After some discussion of the vehicle specs (and some time after that) we reached our Maine destination and the summer home of my father and stepmother. My father, who comes from a long line of truck drivers and mechanics, understands all things automotive on an entirely different level than I do. While I can enthusiastically appreciate a vehicle based on performance and design aesthetics, he can disseminate the pros and cons of every major operating system and pass judgment. And being the blue collar guy that he is, his personal preferences have placed him behind the wheel of Ford pick-ups for the better part of three decades. It's not to say that he's not knowledgeable and appreciative of performance sports sedans, I've just never seen him express any interest in driving one.
What does interest him is his seven grandchildren (only one of which has shown any serious interest in mechanics). So when my daughter got out of the car, excitedly saying, "Grampy, guess what we just saw?" you can imagine that he wasn't expecting the follow-up.
Pausing after "An Alfa Romeo…" she turned to me, unsure.
"Giulia Quadrifoglio," I offered, getting a genuine kick out of her level of excitement.
She then proceeded to load the Alfa Romeo page onto her iPod, and sat on his lap. Together, they sat there and scrolled past the base and Ti trims of the Giulia, until they got to the Quadrifoglio. My father then went on, to explain to his youngest granddaughter exactly how the car benefitted from its biturbo 2.9-liter V6 engine. They continued to examine every facet of the vehicle's exterior and interior, talking about what they liked and why things were engineered a certain way. Looking like a Norman Rockwell painting, but sounding like an episode of Top Gear, it left a lasting memory.
And speaking of Top Gear, it seemed an eerie coincidence that (within the next week) we found ourselves scrolling through the Xfinity "TV guide" channel to find something to watch. As you scroll from show title to show title, a small blurb about each episode appears above. While it completely missed my attention, she immediately noticed as we scrolled past BBC America that Top Gear was comparing the Alfa Romeo Giulia against the BMW M4.
"Put it on, Pop!" she exclaimed. And put it on, I did.
And we sat there, watching them measure the 503 horsepower Giulia Quadrifoglio against the 444 horse of the M4, breaking down every element of their respective performance and handling, as well as the aesthetics.
"I hope the Alfa wins," she said. I smiled.
"It's not really about winning," I told her. "Both are amazing cars. I prefer the Quadrifoglio to the M4, but I wouldn't exactly say no to a BMW if someone offered to buy me one."
And while the Alfa Romeo did, in fact, outperform and garner more enthusiasm than the BMW, it was more about the fact that being passed by this random vehicle had bonded three generations of a family. Despite different levels of automotive knowledge and enthusiasm, we were engaged by it, and making memories as a result of our conversations.
She still asks if we can get an Alfa Romeo, but I don't laugh at her anymore. I just tell her to hit the books, and do well in school because she might be successful enough to own one someday.
"And I'll buy you a BMW, Pop. Just so I can beat you."
(I think I'll just hold out for a Challenger Hellcat…)