What's New in the Alfa Romeo Infotainment Center for 2020?
Alfa Romeo has been at the forefront of technology and innovation as an automaker, even long before hitting the American market.
Because of the marque's dedication to enhancing its product range, consumers have been coming back time and time again.
So, it's only natural for consumers to experience exceptional updates in the 2020 Alfa Romeo lineup.
Updated Infotainment Center Adds to Exceptional Interior
Drivers and passengers alike will enjoy a multitude of updates in the Stelvio and Giulia, including the Active Driver Assistance Package, which alerts drivers to hazardous situations and a wireless charging station.
One of the most exciting updates found inside the vehicles is the newly improved infotainment center.
The dash-mounted infotainment screen is a staggering 8.8-inches, making it even easier for drivers and passengers to view the displayed information.
With a screen this size, it only makes sense for the graphics to be improved for superior clarity and the driver can configure the on-screen widgets. This customization adds to the driving experience in a way that appears small but can have a big impact.
The simple action of dragging and dropping the widget, or tile, allows the driver to put the features they use most frequently front and center.
Combined with improved graphics, this makes focusing on the road while staying in touch with important information even easier.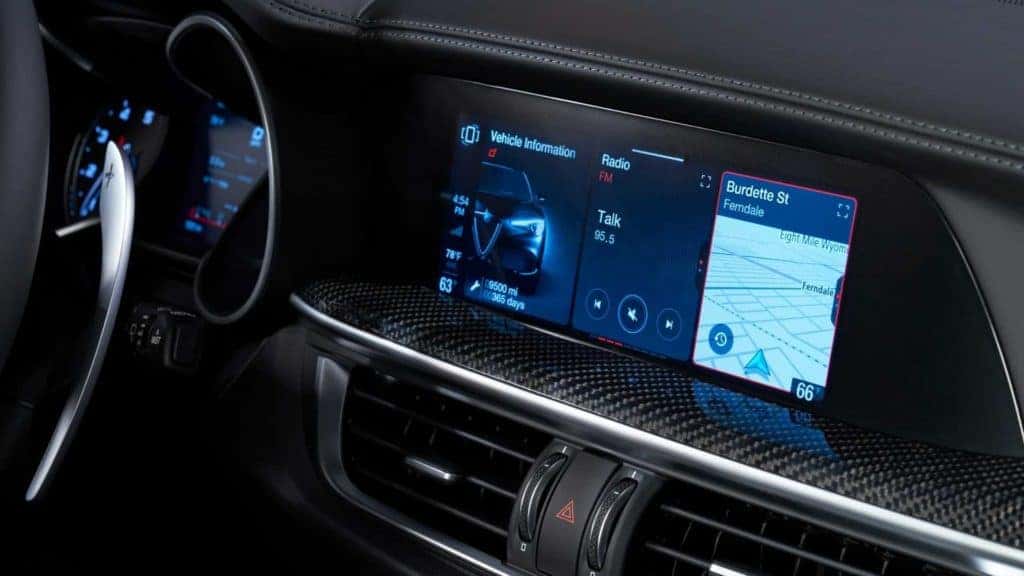 Technology at Your Fingertips
The technology offered through the infotainment center in the 2020 Alfa Romeo lineup helps drivers make the most of their vehicle.
Gone are the days of only controlling the infotainment center with the central rotary knob. It is still available, but drivers will enjoy the added benefit of touchscreen capabilities.
So, whether the knob is the preferred control method, or if using the touchscreen is easier, Alfa Romeo drivers have options.
Standard with satellite radio, Android Auto, and Apple CarPlay integration, your favorite music and podcasts are readily available.
Seamless integration makes vehicle performance, weather, navigation and so much more readily available.
The newly updated infotainment center merely scratches the surface of the technology found in the Alfa Romeo models. Innovations and features like DNA Drive Mode, forward collision warning, and active blind spot assist are some of the perks that come with owning a luxury Italian vehicle.
To learn more about the new vehicles at our showroom, call us at (518) 417-2608 or leave us a message on our website.
If you're ready to test drive an Alfa Romeo, schedule your appointment today.