A Step Up from the Old Standards: Meet the New Alfa Romeo SUV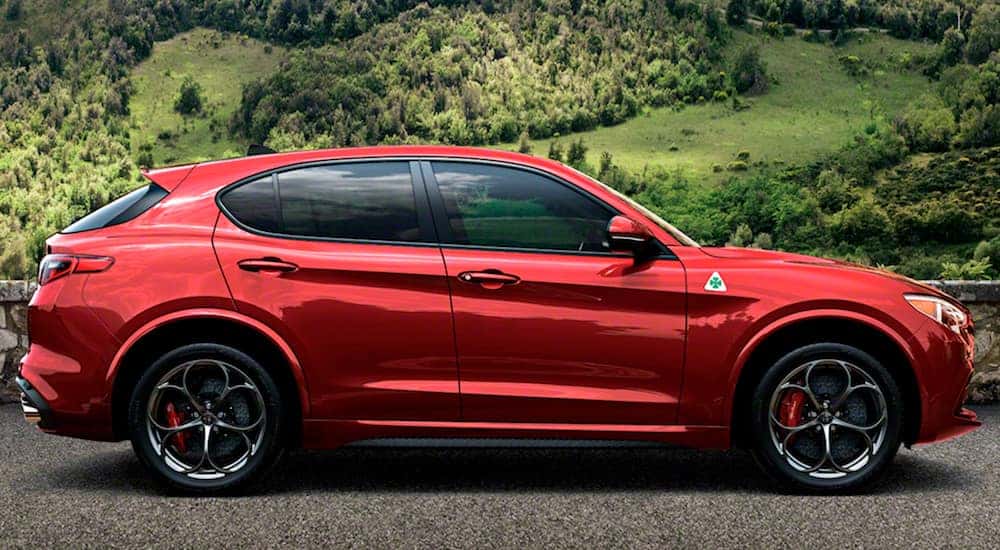 After years of same-old, same-old SUVs, it's high time for a new model to bring some excitement to car shoppers. So you really can't blame the Alfa Romeo dealers in New York for licking their chops, knowing that the arrival of the all-new Alfa Romeo Stelvio is about to tantalize buyers who have been lulled into a sense of boredom with their other options. In fact, the Alfa Romeo Stelvio, with its Italian pedigree and reasonable price point, is set to delight even those buyers who may have thought Italian luxury was beyond their financial reach. Without further ado, we introduce you to the next big thing: the 2018 Alfa Romeo Stelvio.
Insanely Powerful Performance
If there's one thing Italians do right, it's performance vehicles (and actually, lasagna… but that's another article for another time). Outperforming many of its luxury SUV classmates, the Alfa Romeo Stelvio is powered by a turbocharged four-cylinder engine that sets 280 horses loose under the hood. Those horses do not disappoint as they take the Stelvio from zero to sixty in just 5.4 seconds, reaching a top speed of 144 miles per hour. Sure, you might not be able to whip around your neighborhood at that speed (at least not without getting arrested), but there are fun and power in knowing that you could.
However, if shaving off every millisecond is important to you, simply step into the Alfa Romeo Stelvio Quadrifoglio. Its 2.9-liter twin-turbo V6 doesn't have horses – it's apparently powered by a fleet of pegasus that take the SUV from zero to sixty in under four seconds. If you want to talk about bragging rights – well, there you have it. There's absolutely no debating that Alfa Romeo has upped the ante in the luxury SUV class when it comes to hitting Mach speed in the shortest amount of time.
Surely an SUV with that much oomph must be a complete gas-guzzler, right? Wrong. The Alfa Romeo Stelvio actually gets better than average fuel economy output with an estimated 22 miles per gallon in the city and 28 mpg on the highway. According to U.S. News & World Report, this equates to saving around $150 annually if you chose the Stelvio over its close competitor, the Porsche Macan. Plus, the starting price of a Porsche Macan is $47,500 while the Alfa Romeo Stelvio is $41,995, making it the more affordable option between the two.
When it comes down to simply performance, the Alfa Romeo Stelvio should have its competitors very, very nervous.
Luxury Interiors with Plenty of Options
Why should Alfa's competitors be so anxious? Because it's not just great performance that's going to drive the popularity of the newest SUV – its luxe interiors hold their own and possibly even exceed some of the nicest class competitors. For instance, take the base model Stelvio: it comes equipped with leather upholstery, roof rails, a power liftgate, keyless ignition and entry, a rearview camera, four USB ports, Brembo brakes, 10-way power-adjustable front seats, ambient interior lighting, xenon headlights, adaptive suspension dampers, a 6.5-inch central touchscreen display in addition to an oversized driver information display screen, an eight-speaker sound system, Apple CarPlay, and Android Auto, all riding smoothly on 18-inch wheels. That's a whole lot of pizazz packed into a reasonably priced luxury SUV.
Shift up to the next trim level and the Alfa Romeo Stelvio Ti expands the list of amenities by adding front parking sensors, satellite radio, a heated steering wheel, heated front seats and an 8.8-inch touchscreen display – all of which sits on a 19-inch wheel. The starting price for the Alfa Romeo Stelvio Ti? $43,995. A mere two grand more than the base model, the Ti is absolutely worth the splurge, especially if you're stuck living in a cold climate.
All of this is before you even begin exploring the package options. There's a Sport package that increases the size of the wheels, stiffens up the suspension tuning and offers unique exterior and interior trims. There's also the Performance package (only available for the Ti trim) and the Lusso package (also Ti trim only). Opt for the Lusso if you're interested in an even more sophisticated trim; the package includes additional leather touches and upgraded front seats.
Finally, if you're going to be racing your Alfa Romeo around town, you probably should consider the available safety packages. The Static driver package includes technology such as rear-cross traffic alert and blind spot monitoring, while the Dynamic package includes forward collision warning and mitigation, adaptive cruise control, auto high beams and lane departure warning.
And if you're still not satisfied, there's a Convenience package that will load up the Alfa Romeo Stelvio and Stelvio Ti with a 115-volt auxiliary power outlet, an adjustable rail cargo system, and a cargo net. Of course, you could always just pick and choose your features as well: a sunroof, navigation, and a Harman Kardon sound system are all offered as a la carte items.
Of course, you could hold out and wait for the Alfa Romeo Stelvio Quadrifoglio to arrive on the scene. Expected in either late 2017 or early 2018, the Stelvio Quadrifoglio promises to bring the luxury SUV class to the next level – until then, we'll just have to wait to see what Alfa Romeo packs into the cabin… but based on the standard features in the Stelvio and the Stelvio Ti, we're guessing it's going to be fully loaded.
Take the Alfa Romeo Stelvio out for a Spin
If this hasn't been enough to convince you that the Alfa Romeo Stelvio is going to sweep the luxury SUV class, then you should head down to your local Alfa Romeo dealer, because seeing is believing. The sleek lines of the Stelvio look just as sexy parked as they do whipping down the highway and the well-equipped interior makes even the base model a serious class contender when it comes to comfort. With Alfa Romeo looking to increase its brand's popularity and U.S. market share, it's only a matter time before the Stelvio becomes the "it" car. Why not help set the trend by driving home the Stelvio today?