Alfa Romeo Giulia For Sale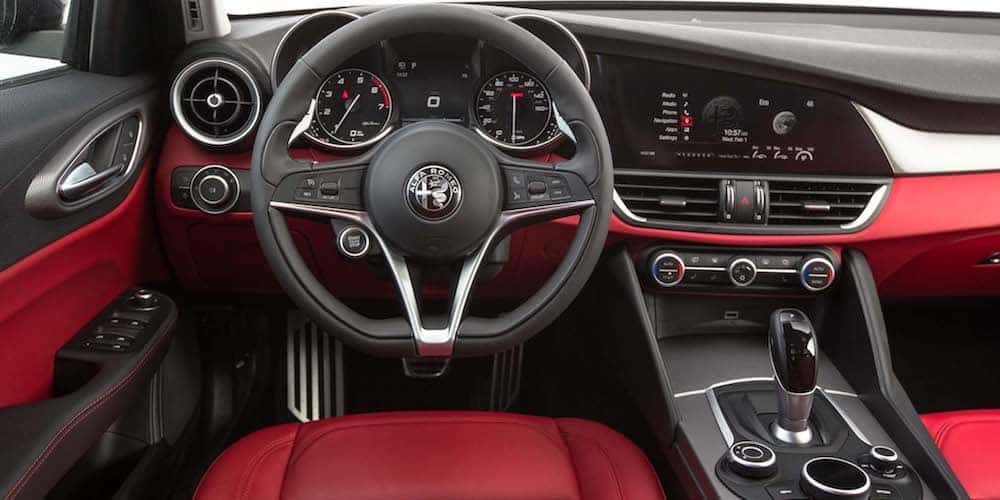 Those searching for an Alfa Romeo Giulia for sale understand the unique nature of their inquiry. The Alfa Romeo brand has always spoken to a luxury and performance-minded elite. Alfa's relationship with the United States represents the patience of premeditation; never rushed, no product offered before its time.
The First Wave
When Alfa Romeo introduced the original Giulia Super in 1962, its Italian pedigree quickly established how a luxury sports sedan would be defined within the American mindset. A road-ready offering from a performance-driven manufacturer of Grand Prix racing cars proved irresistible bait to the growing number of American car enthusiasts. With a style emulated, but never quite duplicated in the U.S. market, it would be 27 years before Alfa Romeo released a proverbial second-course to the American consumer.
While some might view Alfa's limited number of domestic releases as restrictive to any critical view of their impact on the U.S. market, each has been met with both anticipation and celebration. The release of the Milano generated a similar wave of nostalgia to that created in the wake of the pioneering Giulia. Fast forward another three decades, and the tide had indeed rolled back in.
Standing Apart
With all credit due to the BMW M3 and Audi A4, many of the prevailing luxury sports sedans seemed to be missing "something" in the eyes of many traditional sports car enthusiasts. While it is fair to credit German engineering with consistent refinement of the sports sedan over time, it is equally fair to say that the resulting practicality came with certain concessions made in terms of style. Nationalist stereotypes aside, the Italian culture is more closely associated with discussions of passion and romance than that of the Germans. This extravagance (sometimes for the sake of extravagance) is one of the key elements in both Italian design and engineering. As would be expected, Alfa Romeo embraces this in the ambitious design and performance-focused engineering of the all-new 2017 Giulia.
Released in three trim levels, the Giulia is designed with a specific driving palate in mind. Satisfying the expectations of a sporty drive within a lush interior is par for the course for any luxury sports sedan. In addition, the Giulia exudes an appreciation for the impractical; a degree of flamboyance in style and performance intrinsic in Italian vehicle design. The Giulia is distinctively Italian, distinctively Alfa Romeo, and such drivers are bound to be satisfied with the result.
Base Trim
Powered by a 2.0-liter 4-cylinder, the base model Giulia delivers a powerful 280 horsepower and 306 pounds per foot of torque. With a top speed of 149 mph, the result is true to Alfa's claim that the Giulia is "intended to stir emotions. With a harmonious blend of precision performance and sculpted design, the Giulia can be enhanced further through the Sport Exterior and Interior Packages. The former contributes 18-inch sport aluminum wheels and on-brand colored brake calipers as well as all-season performance tires, front and rear sport fascia, and gloss black window surrounds. The latter adds steering column-mounted aluminum paddle shifters, sport leather steering wheel, aluminum sport pedals and footrest, and interior accents in brushed aluminum.
The Ti
The mid-level Ti maintains Giulia's status of offering best-in-class horsepower. At 280 hp, it stands confidently above the Audi A4, Mercedes Benz C300, Lexus IS 200T, and Jaguar XE Premium.
While the Sport Package offers the key enhancements available to the base trim, the Lusso Package allows for the inclusion of additional indulgences, such as luxury leather power seats, with Cannelloni-design and four-way lumbar support. Coordinating stitched-leather interior and steering wheel, and wood-grained accents in either Dark Gray Oak or Light Walnut create a truly-refined driving environment. Add in 18-inch, 10-spoke aluminum wheels and performance tires, and the Ti stands as a testament to Italian craftsmanship.
The Quadrifoglio
The ultimate realization of Alfa's design initiative comes in the form of the aptly-name Quadrifoglio ("four-leaf clover" in Italian), which delivers even more on Alfa's lofty expectations of both performance and style. Considering the rarity of Alfa's domestic releases and an MSRP starting at $72,000, the Quadrifoglio may not fit the buying trends of most U.S. consumers. The resulting rarity of ownership can only add to its exclusivity, making its branding confidently self-referential in a way that is hard not to respect.
A worthy successor to the Alfa Romeo legacy, the Quadrifoglio houses a front-mounted Twin Turbo V6 which generates 505 horsepower and a staggering 443 lb-ft torque. Maxing out at 191 mph, it can reach 60 mph within 3.8 seconds. Rear-wheel drive, the Quadrifoglio is balanced optimally with a 50/50 weight distribution. While powerful, it is engineered for refinement courtesy of Alfa Romeo DNA, which allows the driver to customize their driving experience between Race, Dynamic, Natural, and Advanced Efficiency settings. This empowers a driver to emulate both daily driving and sport driving, to display both shows of power and conservation of energy. It is the type of flair one would expect from Italian design; unapologetic, yet worthy of applause.
The interior evidences exceptionally rich materials, and an attentiveness to detail.
The exterior design is sleek, sculpted and boasts tastefully and confidently as to what rests under the hood, and what remains hidden inside. It truly is the four-leaf clover, hidden to all but those fortunate few.
Born in Milan, the all-new Alfa Romeo Giulia is built with the driver in mind. It is an exotic transfusion into the bloodstream of the sports sedan class, which has lost some of its vigor and potency over time. Whether that is enough to inspire a nurturing relationship between Alfa Romeo and the American driver remains to be seen. If not, we can always look forward to the next wave.