Alfa Romeo Dealers
Alfa Romeo is back on North American soil. For those seeking a new vehicle, it's certainly worth your time to explore everything that this brand has to offer. We're sure that you're not completely familiar with the company's history and offerings, and that means you're unaware of the additional amenities that the brand provides to their customers.
Fortunately, you've come to the right place. Continue reading to understand why you should be visiting Alfa Romeo dealers as soon as possible…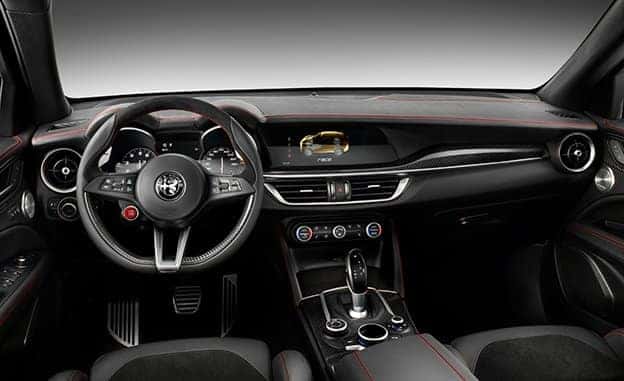 Offerings
Sure, you may have determined that one of Alfa Romeo's impressive vehicles is the right choice for you. However, your decision-making is far from finished, as you'll still have to choose between the brand's many impressive offerings. The brand offers models that should satisfy any type of driver, whether they're seeking a sedan, an SUV, or a sports car.
Giulia
The Alfa Romeo Giulia is one of the most iconic offerings by the brand, so it shouldn't be all that surprising that the vehicle is one of the most well-versed luxury cars on the market. It starts with the the car's 2.0-liter I4 Intercooled Turbo Engine, which is capable of pumping out a commendable 280 horsepower and 206 pounds-feet of torque. As a result of these impressive specs, drivers can expect an even more impressive top speed of 149 miles per hour and a 0-to-60 time of 5.1 seconds.
The vehicle has also made a name for itself due to its array of innovative features, which play a significant role in convenience, safety, and performance. The widescreen Information and Entertainment System can be accessed via the car's Rotary Controller, meaning drivers can access all of their favorite music without taking their eyes off the road. The Bi-Xenon Headlamps will command other drivers' attention, while the Carbon Fiber Drive Shaft results in a lighter car that doesn't skimp out on performance specs.
Stelvio
Drivers will undoubtedly appreciate all of the technological offerings that are included in the Alfa Romeo Stelvio. The SUV offers an array of features that will improve the driver's overall experience. Drivers can appreciate their preferred tunes via the Harman Kardon Premium Audio System, which features a 900-watt, 12-channel Class-D Amplifier, a Logic 7 HiFi System, and 14 speakers. Meanwhile, the seven-inch TFT cluster (with Dynamic Display Controller) displays all of the necessary information that a driver could possibly need, providing them unmatched insight that will guide them during their journey.
Of course, similar to the Giulia, the 2.0-liter Direct-Injection I4 Intercooled Turbo Engine is mighty impressive. When teamed up with the eight-speed automatic transmission, drivers will be able to expect 280 horsepower and 306 pounds-feet of torque. When these specs are operating at their peak levels, drivers can also expect a top speed that's approaching 144 miles per hour.
4C
There's no denying that the Alfa Romeo 4C Coupe is the most athletic version from the brand. Thanks to the 1750 turbocharged I4 engine, drivers can reasonable expect 237 horsepower from their vehicle. Therefore, when everything is working optimally, drivers can anticipate a top speed of 160 miles per hour and a 0-to-60 time of 4.1 seconds.
Of course, it wouldn't be an Alfa Romeo vehicle if it didn't include an array of features that help boost the style and opulence. Well, drivers will be hard pressed to find a sportier vehicle, as the 4C's exterior includes a distinctive V-shaped front grille that will leave other drivers gawking at your ride. The inside of the vehicle is highlighted by the classy Italian designs, so any passenger will immediately be impressed when they enter your new car.
History
While consumers are surely familiar with the history of American automobile manufacturers, they're probably not familiar with Alfa Romeo's background. While this information shouldn't influence whether you're going to pursue one of the company's vehicles, it should at least provide insight into all of the obstacles that the brand has had to overcome.
Company
Like any car company, Alfa Romeo has seen its fair share of ups and downs. There were several iterations of the company before the "Alfa Romeo" brand ultimately stuck around. The company initially saw underwhelming results from their initial product, the 40 HP and 60 HP. The company released the Torpedo following World War I, but that also resulted in subpar sales.
The vehicle truly started hitting its stride before World War II, and the company ultimately released perhaps their most iconic nameplate: the Giulietta. The company eventually teamed up with Fiat in a joint venture, and this resulted in improved sales and improved products. While the company struggled during their first half-century in existence, their next half-decade went a whole lot better.
US
The brand didn't make its United States debut until the 1960s, when Max Hoffman commissioned Alfa Romeo to make an open version of their Giulietta. Sales suffered, though, and the company discontinued North American sales in the early 1990s.
However, by 2006, Alfa Romeo was back, as the company released their new 8C Competizione and (several years later) the 4C Coupe. However, the brand failed to push these products, resulting in the same underwhelming sales numbers. Fortunately, the company has seemingly figured things out, as they released a number of Super Bowl LI ads that helped put the brand back on the map.
Incentives
Alfa Romeo provides some of the most luxurious and stylish vehicles in the entire industry, but customers will surely be seeking other reasons why they should be pursuing one of the brand's cars.
Where do we start? Alfa Romeo provides their customers with a number of financial benefits, only incentivizing purchasing a vehicle from the brand. Furthermore, the array of safety offerings means the car and its occupants will remain safe and secure.
Offers
There's no denying that Alfa Romeo's products are a bit pricier than their competitors, but the brand offers a number of deals that will help cut down on the price of their rides. The brand offers a 36-month lease deal (10,000 miles per year) that will result in significantly lower monthly fees, and the financing deals include a very reasonable 1.9% APR over 36 months.
That's not all the company offers its customers. The vehicles are accompanied by a four-year, 50,000-mile limited warranty, providing drivers with some financial protection if they end up in a crash. The 24-hour towing assistance coverage will prove valuable if you find yourself broken down on the side of the road. The brand even includes a complimentary first service, meaning owners have no excuse to not give their new Alfa Romeo a checkup.
Safety
If you're going to be dishing out a significant chunk of money on an Alfa Romeo vehicle, you'll surely want to maintain the car's "like-new" condition. Fortunately, all of the brand's vehicles provide a number of amenities that should keep your new vehicle (and, more importantly, the vehicle's occupants) our of harm's way. It starts with amenities like the Backup Camera, which is supported by the Rear and Front Park Sensors. When you're trying to navigate through a crowded parking lot, this inclusion will assure that you won't end up in a pesky fender bender.
These vehicles also include an integrated brake system, which plays a significant role in reducing the necessary braking distance. Therefore, if a crash appears to be imminent, you'll have a better chance of avoiding the crash. Meanwhile, the Forward Collision Warning Plus will immediately alert the driver if the vehicle detects that a crash is imminent.