2017 Alfa Romeo Giulia Luxury Sedan: Pure Pleasure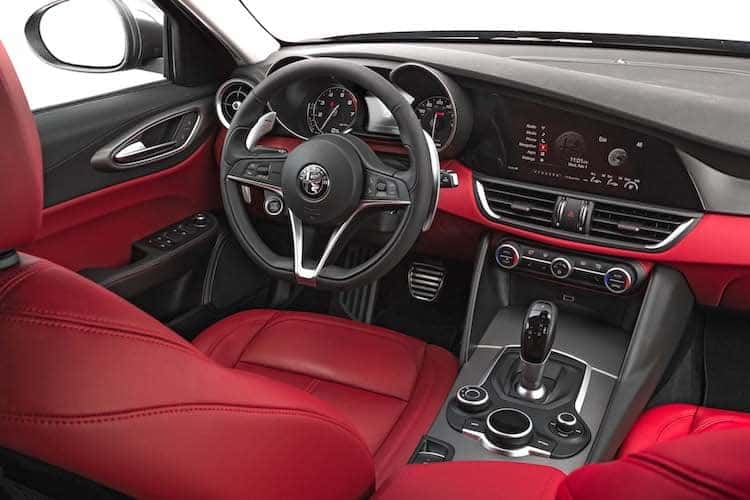 If you are in the market for an ultra-performance handcrafted compact luxury sport sedan, the new 2017 Alfa Romeo Giulia in Albany should be at the top of your list. This new Italian-made vehicle has been praised for its nimble handling, its true Italian flair, its extraordinary design, and its unique original style. The car manufacturer's reputation is legendary for its style and racing heritage.
The 2017 Alfa Romeo Giulia is available in three models: the Giulia, the Giulia Ti, and the Giulia Quadrifoglio. Alfa Romeo has positioned Giulia models as a premium brand in the premium segment offering best-in-class driving dynamics and performance. Italian cars are known for their avant garde styling, sumptuous interiors, and performance engines.
Guilia
The base model of the Giulia sport sedan is created to stand out with its Italian style, craftsmanship and performance. This can be seen in its distinctive Alfa Romeo Trilobe shield grille as well as its elegant lines, proportional design and harmonious elements. The firm's engineers have given it an optimally balanced weight distribution along with a rear-wheel drive layout. Under the hood, you'll find an all-new all-aluminum direct-injection turbo engine with eight-speed automatic transmission delivering a best-in-class 280 horsepower and a top speed of 149 miles per hour and 0-60 mph in 5.1 seconds.
Its stylish interior is built with leather seating, 7-inch full-color TFT, a 6.5-inch or 8.8-inch industry-first hidden widescreen infotainment display, Alfa DNA Drive Mode Selector with Dynamic, Natural and Advanced Efficiency vehicle behavior modes, sport-inspired flat-bottom steering wheel with integrated push button start, along with keyless-go with passive entry and remote start.
Giulia Ti
The all-new Giulia Ti sports sedan has been designed with exquisite materials, dash-stitched full-grain Italian leather and genuine wood trims. It offers an all-new all-aluminum engine with best-in-class 280 horsepower and a top speed of 149 miles per hour and 0-60 mph in 5.1 seconds.
Known as a driver's car, the Giulia Ti offers two unique standard features to increase handling and safety during the most aggressive of maneuvers. The innovative Anti-Slip Regulation (ASR) technology optimizes vehicle traction by restraining the spin of the driving axle if the adherence limit is reached when turning. It is also equipped with a Traction Control System that restricts the wheel spin of a single drive wheel.
Both the Giulia and Giulia Ti are equipped with the intelligent Q4 all-wheel-drive system that has the ability to transfer up to 60 percent of the engine's torque to the front axle delivering even more all-season traction and performance capability.
Giulia Quadrifoglio
At the top of the line-up is the Giulia Quadrifoglio. It's been called a smile-inducing vehicle to drive to work or on a racetrack. It's been named one of Ward's Best Interiors for 2017, won the prestigious EuroCarBody 2016 award, and was given Popular Mechanic's 2017 "Super Sedan" award.
It offers a best-in-class 505 horsepower V6 engine, 0-60 miles per hour in 3.8 seconds and a record-setting 7:32 lap time around the legendary Nürburgring – fastest ever by a four-door production sedan. It is the most powerful Alfa Romeo production car ever.
Let's look under the hood of this ultra-high-performance sedan. There you will find an all-new, all-aluminum direct injection 2.9L twin-turbo intercooled V-6, producing a best-in-class 505 horsepower and 443 lb.-ft. of torque. It has earned the title of the most powerful Alfa Romeo production car engine ever and the quickest with a class-leading 0-60 miles per hour (mph) acceleration in 3.8 seconds. Combined with an 8-speed automatic with steering column-mounted aluminum paddle shifters, with shifts in less than 100 milliseconds, the culmination of these performance attributes is a record-setting time at the Nürburgring of 7:32, making the Giulia the fastest four-door production sedan in the world.
What makes this high speed possible? The Giulia Quadrifoglio is composed of a light-weight carbon-fiber hood and roof, rocker panel moldings, rear deck-lid spoiler, along with segment-exclusive carbon fiber drive shaft and active aero front splitter. The use of carbon fiber along with aluminum creates a maximum weight savings that contribute to the near perfect 50/50 weight distribution.
The Quadrifoglio is unique with its stunning Italian style with muscular proportions, simplistic elegance, athletically taut lines, sculptural details, best-in-class aerodynamics and high-quality surface finishes across its generous wheelbase. Its sleek, rich Italian interior design features comfortable and secure G-Quad front sport seats adorned with high-performance leather and Alcantara, power bolsters, leather-wrapped dash and doors with accent stitching, 3-spoke flat-bottom steering wheel featuring a performance red push button start, carbon-fiber interior trim, aluminum sport pedal and footrest, and 8-inch widescreen 3D Navigation on a hidden infotainment screen.
The Italian car manufacturer has equipped the Quadrifoglio with a console-mounted DNA Pro Drive Mode Selector. The driver chooses between Dynamic (sporty driving), Natural (daily driving) and Advanced Efficiency (best mpg), each adjusting suspension damping and throttle response accordingly.
Safety features include passive entry, blind-spot monitoring, back-up camera, and front and rear park sensors.
The new 2017 Alfa Romeo Giulia is the newest model to join the famed brand heritage of the car manufacturer's 105 years. As the first of a new generation of vehicles built on the all-new Giorgio platform, the 2017 Giulia Quadrifoglio embodies Alfa Romeo's La meccanica delle emozioni (the mechanics of emotion), producing race-inspired performance, advanced technologies, seductive Italian style and an exhilarating driving experience to the premium mid-size sedan segment. Its iconic Quadrifoglio badge (a four-leaf clover encased in a white triangle) has adorned all Alfa Romeo performance models. The all-new Giulia Quadrifoglio embodies the essence of Alfa Romeo's racing legacy.
Since it was established in Milan in the early 1900s, Alfa Romeo continues to design and craft some of the most stunning and exclusive cars in automotive history, all while building on a racing heritage that includes some of the most talented and storied drivers and victories. It has carved a sublime reputation into roadways around the globe. It's earned a status synonymous with power, performance and momentous victories, stylish design, and unrivaled engineering.